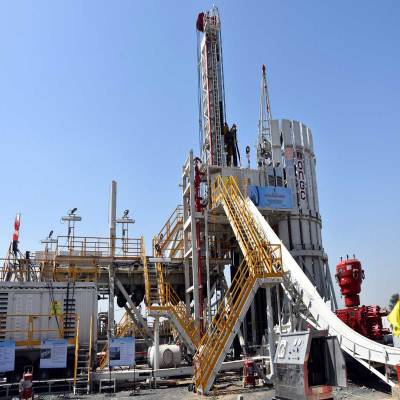 MEIL-made India's first indigenous hydraulic rig begins operations
Hyderabad-based Megha Engineering and Infrastructures (MEIL) achieved a milestone by manufacturing rigs for the oil and gas industry with indigenous know-how. The first of the rigs designed with advanced hydraulic technology has begun operations in the KLDDX oil well in the Kalol oil field near Ahmedabad.
MEIL secured an order from ONGC in a tendering process in 2019 to manufacture and supply 47 drilling rigs worth Rs.60 billion. MEIL has now deployed the first of those rigs. The remaining 46 rigs are in various stages of manufacturing. 
Of these, 20 are work-over rigs and 27 are land drilling rigs.
Work-over rigs are used to extract deposits from already drilled oil wells, enhance productivity and repair the